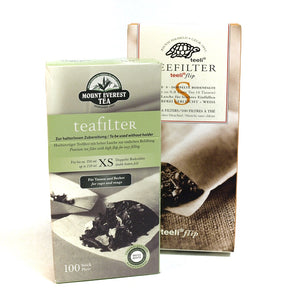 Paper filters
Regular price
€3,90
€0,00
Tükihind
tk
Price includes VAT.
You're used to the delicious taste of good-quality tea, but at the office or on the road you have to put up with tasteless dust in teabags because carrying around filters and teapots is a hastle. We understand how you feel.
So here's a great solution: make your own teabags, but with your favourite, high-quality teas inside! These tea filter papers save the day and no holders or attachments are needed! Just pre fill your t-sac filter with tea or herbs and place in your briefcase or handbag. The filled t-sac will stand up in a mug or can be held in place with the lid of a teapot. An elongated back makes filling-up easy, and requires no filter holder, making the metallic tea ball obsolete. Simply fold over the edge of your cup or teapot.
These are made in Germany of taste-neutral wood and hemp fibers, are unbleached – and 100% recyclable. Each box contains 100 filters.
Comes in 2 sizes: S (7cm x16cm) and XS(12,9cm x 6,2cm), ideal for single-serving or large-pot sizes.
---